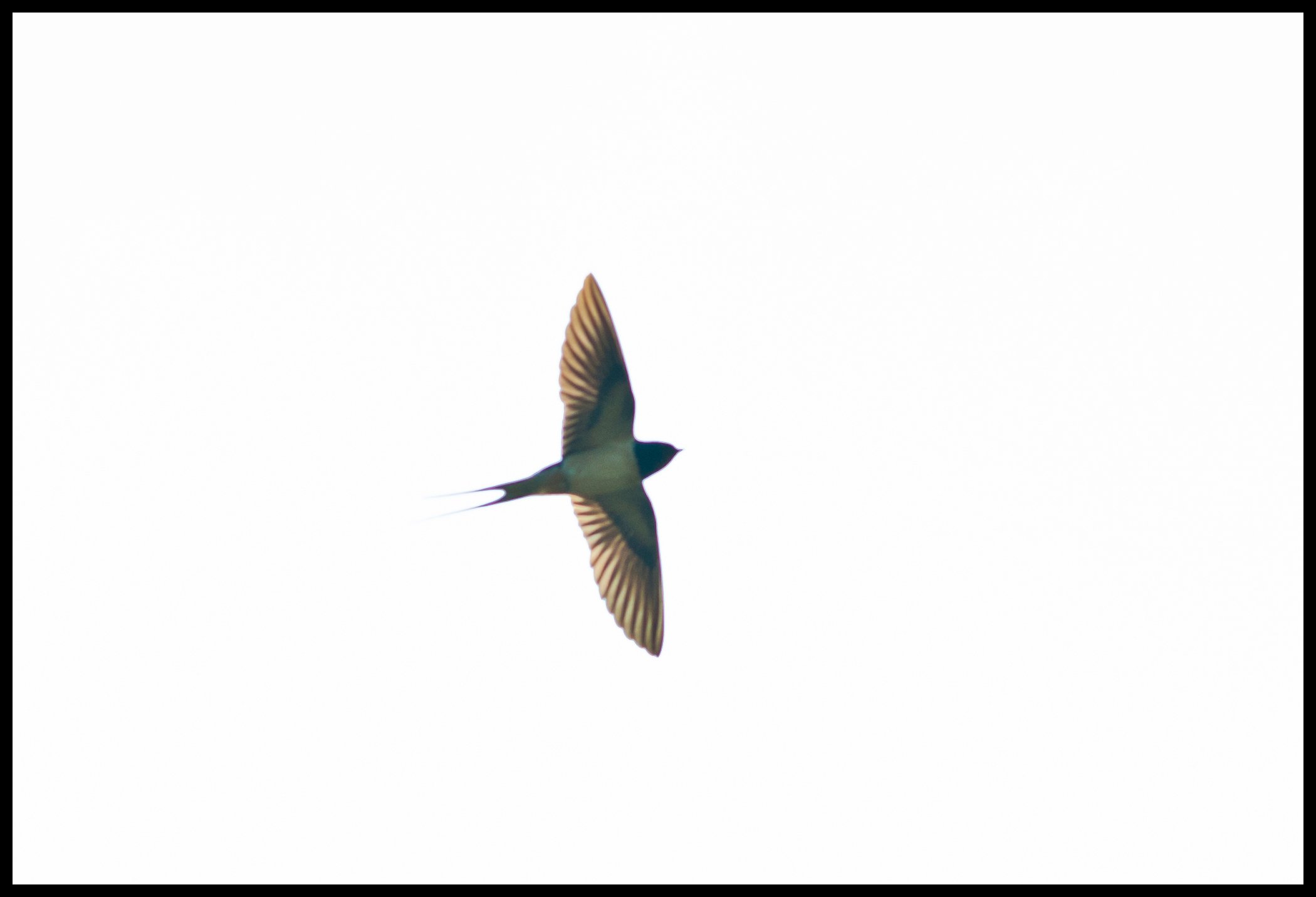 (To read about the project have a look at this page / Click on the image to see a detailed view)
Subject: Seeing the first swallow, which is usually a sand-martin
Location: Abbots Bromley, Staffordshire
When thinking of April, Orwell thought most of all of birds. With typical exactitude he pinpointed 14 April as the date he'd often hear ('with pleasure') the first cuckoo, and about this time came another avian association – 'seeing the first swallow – which in fact is usually a sand-martin.'
Swallows have long been among the most popular of birds. Sleek and fast, the sight of them darting over the fields and hedgerows, catching insects in the evening has captured various imaginations. In Richard III, Shakespeare famously played on their dexterity: 'True hope is swift, and flies with swallow's wings.'
Swallows are summer visitors to Britain and their appearance in mid-April is always cherished in the countryside. In fact you can find a note of cheer in Parson Woodforde's diary on 18 April 1786 when he records its arrival – 'Saw the first Swallow of the Season this Morning' – in Norfolk. Like Orwell a century and a half on, he must have known that those 'detestable' months of January and February were well behind him and that summer was fast on its way.
A century after Woodforde's swallows turned up in Weston Longville, an excellent piece on the birds was written in The Popular Educator. It's just the type of nineteenth century writing and publishing that I love, so I'm going to add their wonderfully descriptive passage about swallows and their troubles with our climate here.
The chimney swallow is easily known by its deeply forked tail, the ruddy hue on its throat, and its lightish tinted breast. The rapid movement of the bird – its sudden darts and turns, now up, now down, over the observer's head, and then skimming the ground in long, arrow-like flights – present a specimen of a living machine in beautiful and perfect action.
But notwithstanding this power of flight, the birds are sometimes exhausted by their journeys across the sea. They can battle for a long time with the mere force of a tempest, but when the blast is both cold and strong, the winged voyagers are almost paralysed. A whole army of swallows will then crowd the rigging of some lonely ship, clinging for hours to ropes and spas, until recovered strength again enables them to obey the 'forward' impulse.
No wonder these beings of summer climes sometimes marvel at the rough treatment received in our ruder latitudes. A cutting 'north-easter' is no reception for a creature that has been basking for months in the sun of Egypt. The result may amaze the swallows, but human philosophy can explain it all. They perish by thousands in such years. On one bitter spring day a gentleman picked up in the course of his walk ninety two chimney swallows, not dead but benumbed by the cold. Being placed in a warm hamper, they all recovered and flew off the next day.
[Read the full piece here]
Swallows are best found in the countryside near the lakes, streams or watery ground that provide a nursery for the insects they eat. I'm move familiar with them sat on top of telegraph poles, resting in the evening, and it was here that I found a pair of them on a recent trip to Staffordshire.
The swallows in question had turned up about two weeks before – on or around the fourteenth of April, the date Orwell had down for his first cuckoo. I managed to watch them for half an hour or so, wheeling through the fields with incredible speed.
Again – just like the boxing hares – I was hampered in my photography by my kit. A 200mm lens on a full frame camera is just not long enough to get in close to small birds like swallows. Later on I found out that people devote days to capturing them in flight, so I'm happy enough to have found them by the end of the month and to have an illustrative shot of it in flight. It's really no more than that, but getting beautiful photographs each time is more than I can manage.
(Here's an illustration of a swallow from the RSPB – just to be sure I didn't make the Orwellian mistake of muddling it with a sand martin.)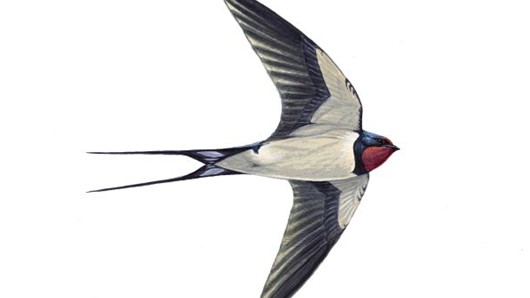 I'm now eight months and twenty two photographs into this project. I've two quite different challenges in May: 'stewed rhubarb' and 'the pleasure of not wearing underclothes' – goodness knows what I'm going to do for that.