From the book jacket
'Damn him!' he swore. 'There is no more harm in shooting him than a mad dog!'
The brutal murder of the Reverend George Parker in the rural village of Oddingley on Midsummer's Day in 1806 – shot and beaten to death, his body set on fire and left smouldering in his own glebe field – gripped everyone from the Home Secretary in London to newspapermen across the country. It was a strange and stubborn case. The investigation lasted twenty-four years and involved inquests, judges and coroners, each more determined than the last to solve Oddingley's most gruesome crime – or crimes, as it turned out.
Damn His Blood is a fascinating glimpse into English rural life at the beginning of the nineteenth century, so often epitomised by the civilised drawing rooms of Jane Austen or the rural idylls of Constable. England was exhausted and nervous: dogged by Pitt's war taxes, mounting inflation and the lingering threat of a French invasion, violence was rife, particularly in rural communities where outsiders were regarded with deep suspicion.
With a cast of characters straight out of Hardy, Damn His Blood is a nail-biting true story of brutality, greed and ruthlessness which brings an elusive society vividly back to life.
Reviews
'The book (Moore's first) is vivid, intense and often frightening. Despite the incomplete nature of the documentary evidence and the paucity of any visual representations of his principals, Moore's re-examination of the 'expressive and uncouth Georgian society that directly preceded Victorian Britain' has richness, vibrancy and heft. His deferral of the solution and careful, almost novelistic release of information suggest the restraint of a far more experienced writer.
There is much in this brilliant, startling debut that will linger long in the memory, images that may even, for the unwary reader, make sleep temporarily difficult.'
Jonathan Barnes, Times Literary Review
—
'A remarkable debut from a very canny storyteller who deftly takes us back to the scene of some sensational murders 200 years ago.'
[Full review here]
Nicholas Lezard, Paperback of the Week, The Guardian
—
'A gripping historical drama, beautifully told, and underpinned by meticulous research. The best historical crime books root a compelling narrative firmly in the context of their era, and Peter Moore has achieved this in great style.'
Jane Robins – author of The Magnificent Spilsbury
—
'A fascinating piece of criminal social history… a lively, atmospheric and gripping recreation of a terrible pact and its shocking consequences.'
[Full review here]
Rosemary Goring, Herald Scotland
—
'Moore tempers his considerable research with passages of beautifully evocative prose that bring a bygone era and a small English village vividly to life.'
Carl Wilkinson, Financial Times – FT.com
—
'A nail-biter…. Peter Moore deserves praise for reviving a grisly murder case which transfixed the whole country back in the early nineteenth century. Along the way he has summoned up the vanquished world of rural England, with its smocked farm labourers, illiterate dairymaids and grinding poverty – a world which would later captivate Charles Dickens and Thomas Hardy.'
[Full review here]
Christopher Hudson, Daily Mail
—
'A gripping true story of brutality, greed and ruthlessness in a rural community gone wildly astray.'
BBC Radio 4 Book of the Week
—
Fascinating and informative, fans of The Suspicions of Mr Whicher are bound to enjoy this meticulously researched and utterly absorbing non fiction tale.'
Natalie Bowden – Press Association
—
Scrupulously examined… a well-judged piece of narrative history that not only describes the crime but also gives a vivid picture of the mores of rural England 200 years ago… Moore's characters come across not as Central Casting yokels, but all too flesh and blood: determined, malign, confused and tragic.
Appropriately, Thomas Hardy, the great chronicler of clotted pastoral, made notes about the case, possibly for a novel he never wrote. Moore's book, 'a CSI Oddingley', makes a fine substitute.
Michael Prodger, Mail on Sunday
—
'Expressive, erudite and discerning prose… Moore sets this seemingly parochial conflict against a turbulent horizon of war, revolution, rumour, surging inflation, fears of invasion and creeping industrialisation. He is brilliantly sensitive to the preoccupations of honour that gripped local communities, and to the rancorous, potentially murderous effects of jibes, curses and sneers. He captures the village of Oddingley in oil colours and, like Constable, is alive to both the beauty and restlessness of rural life.'
[Full review here]
David Gelber, Literary Review
—
'It's part history, part thriller, part detective story and I couldn't put it down. It's full of local places – Droitwich, Worcester, Bromsgrove, Trench Wood, and Tibberton – as well as Oddingley itself and it paints a colorful and compelling picture of the lives led by our predecessors two hundred years ago. It's a great read.'
Peter Luff, Member of Parliament for Mid Worcestershire
—
'Terrific read. First class research, beautifully written, a true thriller about an extraordinary story unfolding over 30 years two centuries ago.'
Edwina Currie, former minister under Margaret Thatcher and Strictly Come Dancer
—
'First rate debut'
Edward Pearce, Tribune
—
'When a book like 'Damn His Blood' comes along, with its splendid title, its enticing blurb, its – to me – wholly novel contents, I trust you will understand and excuse my brief lapse into fiction reviewer gushiness. Fact is, I stayed up half the night with this one. I read it in my tea-breaks, I read it in my lunch hour. I read it in the queue at Tesco's. I (shoots colleagues in history and applied tedium department a defiant glare, but still cannot quite believe he is about to say this) could not put it down.'
[Full review here]
Henry Coningsby, Waterstones Bookseller
—
'Two hundred years later it is a sad but gripping story, told with style and authority. We are in safe hands as Moore guides us through the documents, piecing together the sorry tale. His passion for the story is obvious and is communicated to us the reader. I have no hesitation in recommending it wholeheartedly.'
Sarah Watkins, And then I Read in a Book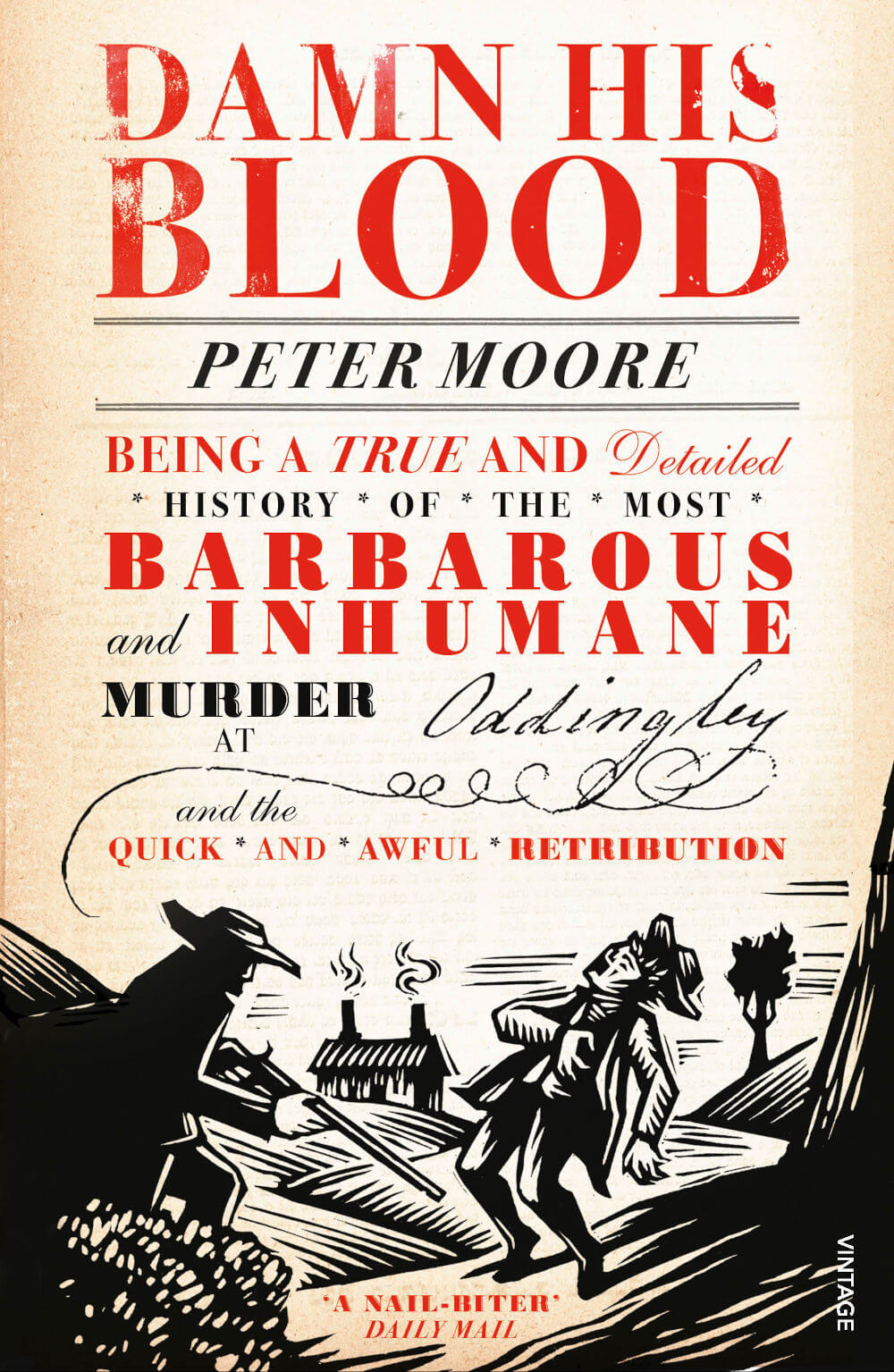 BBC Radio 4's Book of the Week – 25-29 June 2012
Cyprus Well's Book of the Month, June 2012