An introduction
The Enlightenment was an age of endeavours. From Johnson's Dictionary to campaigns for liberty to schemes for measuring the dimensions of the solar system, Britain was consumed by the impulse for grand projects, undertaken at speed. 'Endeavour' was also the name given to a Whitby collier bought by the Royal Navy in 1768 for an expedition to the South Seas. A commonplace, coal-carrying vessel, no one could have guessed that Endeavour would go on to become the most significant ship in the history of British exploration.
Endeavour famously carried James Cook on his first great voyage, visiting Pacific islands unknown to European geography, charting for the first time New Zealand and the eastern coast of Australia and almost foundering on the Great Barrier Reef. But Endeavour was a ship with many lives. She was there at the Wilkes Riots in London in 1768. During the battles for control of New York in 1776 she witnessed the bloody birth of the United States of America. As well as carrying botanists, a Polynesian priest and the remains of the first kangaroo to arrive in Britain, she transported Newcastle coal and Hessian soldiers. According to Charles Darwin, she helped Cook add a hemisphere to the civilised world. NASA named a space shuttle after her. To others she would be a toxic symbol, responsible for the dispossession of the oldest continuous human society and the disruption of many others.
No one has ever told Endeavour's complete story before. Peter Moore sets out to explore the different lives of this remarkable ship, from the acorn that grew into the oak that made her, to her rich and complex legacy.
Reviews
"Beautifully constructed, his book is not just the history of a single vessel, but a window into the intellectual and political life of the age of enlightenment, from the thrill of botanical discovery to the horror of Cook's last moments on the beaches of Hawaii" – Dominic Sandbrook, The Sunday Times, Books of the Year
"Endeavour is a dazzling combination of science and adventure, lyrically evocative descriptions of lush tropical landscapes and salt-stung seascapes, and a portrait of an age of "magnificent geniality" … [It is] is an absolute joy from start to finish, and surely my history book of the year." – Christopher Hart, The Sunday Times
"[A] fantastically detailed story . . . a joy of a biography, offering up a blizzard of maritime and political fascinations . . . Moore has written a book that makes the case for [Endeavour] both compelling and irrefutable―and offers up besides an immense treasure trove of fact-filled and highly readable fun." – Simon Winchester, The New York Times Book Review
"Mr Moore is a dazzling new arrival: a witty, intelligent and hugely entertaining writer." – William Dalrymple, The Wall Street Journal, Books of the Year
"Moore gives us a wonderful biography of a ship while shedding light on the culture that shaped and surrounded it … Endeavour is an extraordinary book about an unlikely ship that defined an age. The book reminded me of one of those opulent 18th-century feasts enjoyed by King George — endless exotic dishes all delivered with exquisite style. Like the age it recounts, it is a book of energy, creativity and self-confidence." – Gerard DeGroot, The Times, Books of the Year
"Fascinating and richly detailed… Peter Moore has brought us an acute insight into the ship that carried some of the most successful explorers across the world. A fine book that's definitely worth exploring" – Michael Palin
"Peter Moore's elegant and entertaining new book offers us a fascinating biography of the Endeavour, using it as a window onto the broader world of the mid-18th-century English Enlightenment…a deeply satisfying book. It represents an intelligent, diverse, fresh and challenging approach to writing the history of exploration" – Robert Mayhew, Literary Review
"An immaculately researched and lovely account" – Peter Frankopan, The Tablet, Books of the Year
"What a truly remarkable book this is … entirely fresh and original … shows how this stalwart, unpretentious, little coal bark came to embody the Age of Exploration, of Enlightenment, of Empire, and of Revolution"  – Iain McCalman, author of Darwin's Armada and The Reef: A Passionate History
"Moore's richly detailed book is an engrossing love letter to a word, an attitude and a ship: it is an endeavour that honours Endeavour, without denying the death and destruction that followed in her wake." – Ruth Scurr, The Guardian
"Elegant … Endeavour was the spirit of the Enlightenment under sail." – The Economist
"A wonderful book, a perfect pleasure to read, and an expression itself of great skill." – Alan Atkinson, Australian Book Review
"Moore's research is impeccable, his writing luminous and poetic. He brings the epic voyage of ship and crew to glowing, vivid life … [a] wonderful book from first page to last." – Stephen Lewis, York Post
"[An] absorbing account of the ship and its extraordinary voyage… [a] brilliant tribute" – Nick Rennison, Daily Mail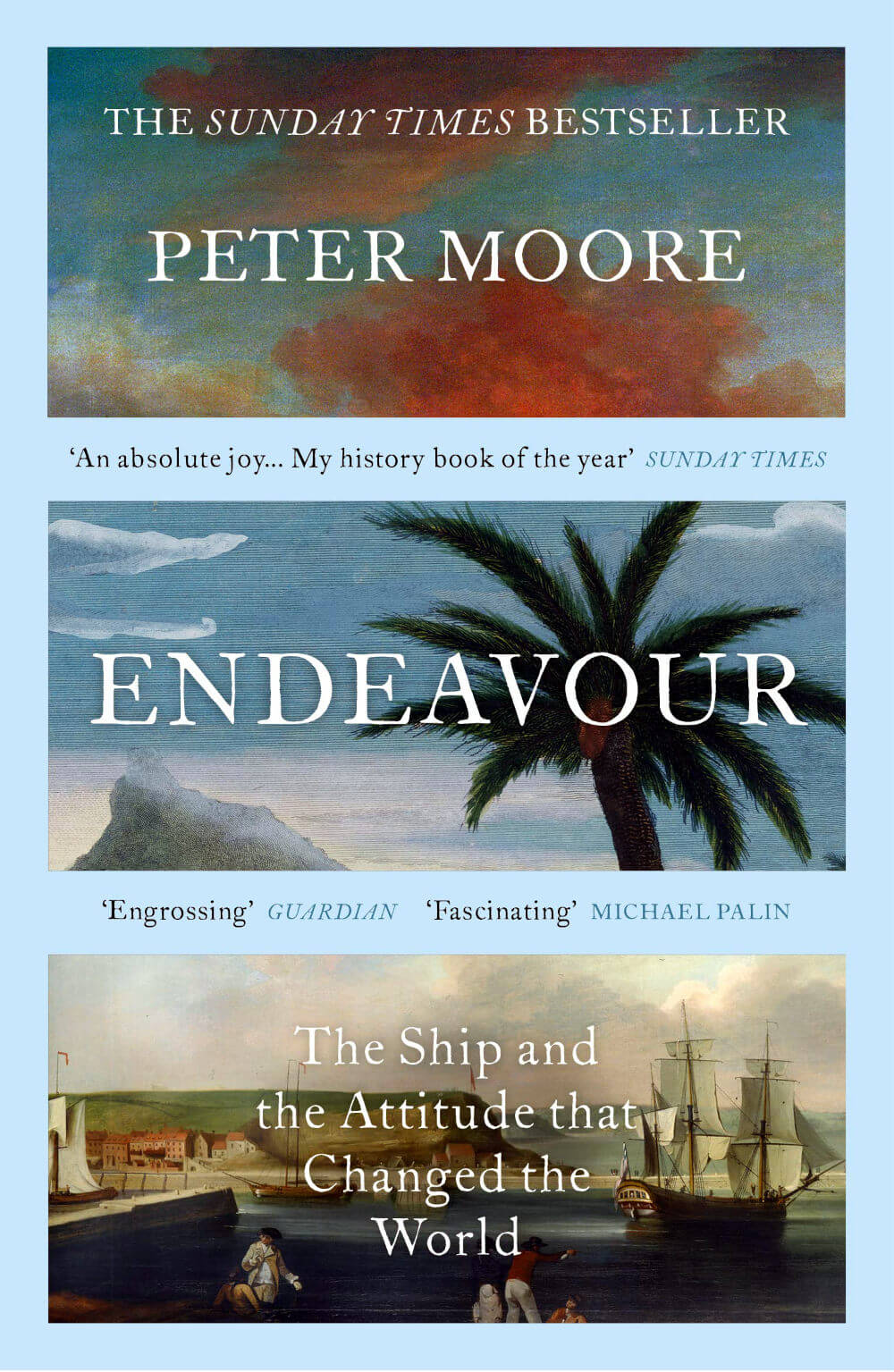 Sunday Times Top Ten Bestseller
A Sunday Times/Times/Wall Street Journal/Tablet Book of the Year
"A joy of a biography" – Simon Winchester, New York Times
"Fascinating" – Michael Palin
Winner of the Mary Soames Prize for history, Winston Churchill Memorial Trust
Shortlisted for the Mountbatten Prize