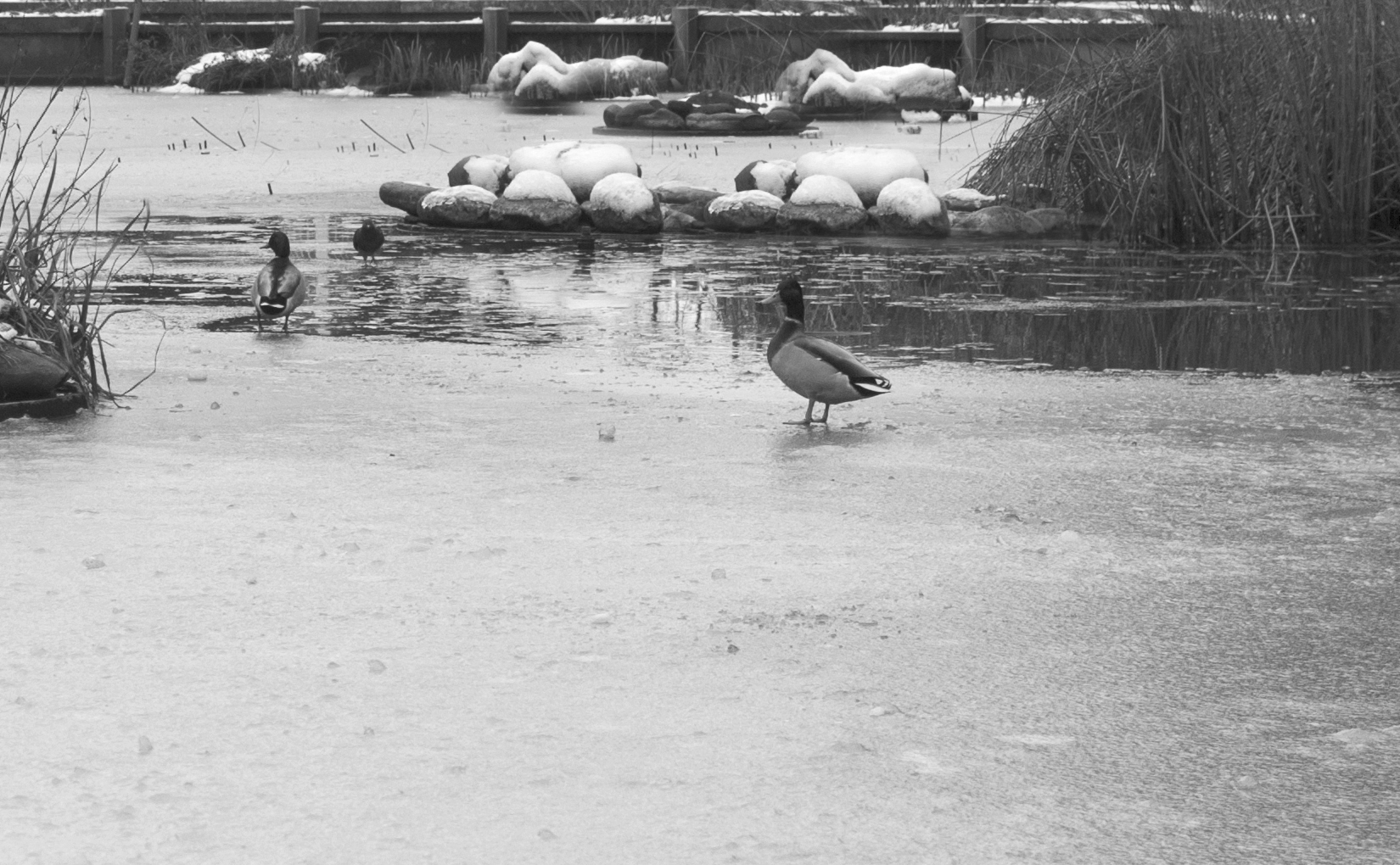 (To read about the project have a look at this page / Click on the image to see a detailed view)
Subject: Cat ice on puddles
Location: Watford Pond, Hertfordshire
If only our myth of festive weather was true, then this shouldn't have been much of a problem. We all know – thanks to, among others, Charles Dickens and the Coca Cola Company – what Christmas is supposed to look like. Inside we're by the fire. Outside the temperature's no higher than a degree or two, or maybe a touch under. There's little wind but there's snow or ice on the ground and every town, village and city in the country has been glazed in that seductive, glossy white light.
Now to emphasise the contrast, I'll sketch the weather we had this last December.
But for a bright four days at the beginning the atmosphere was filled with gloom. To a meteorologist the clouds that hung damp and low over our heads were altostratus opacus but to the rest of us they were simply gloom.
Beneath the light had a drab emptiness and trapped below the clouds the air stayed mild – not warm, not cold, just mild. At nights the clouds would break and at Christmas in the countryside you could look up into the twinkling heavens and feel a chill in the air. But then, the very next morning, the clouds would have mustered again like a Napoleonic army. And so it went on.
Cat ice is a thin crust of ice that forms over puddles. It is not an expression that I have heard before and I imagine that since Orwell's days it has fallen out of general use. I had to resort to the Urban Dictionary to find a definition:
A thin (half inch or less) sheet of ice from which the liquid water underneath has receded or drained off, leaving it supported only at its edges. So named because it might support the weight of a light-footed cat, but no more. Typically found on urban sidewalks or gutters where the surface is uneven and sunlight is hit-and-miss. Occasionally found on natural bodies of water.
(Source – Urban dictionary)
I can say with some confidence, as I spent much of December looking for it, that there was no cat ice about. Not in Hertfordshire where I live. Not in London where I work. And not in Staffordshire where I spent Christmas with my family.
This frustrated me as I thought cat ice was one of the more common of Orwell's associations. Much more than, say, the elm trees or the rubbish fires. But cat ice was the one that got away.
In the end I resigned myself to waiting for the best opportunity. And as January replaced December, a cold snap replaced the warm spell and I managed to get the photograph above. It is not one of my best, but I think it illustrates what Orwell was on about.
It was taken in Watford town centre in Hertfordshire – over the infamous green pond that glows like an emerald when the sun shines in summer. I've used a little interpretation here – Orwell specifically wrote puddles – but I've taken a photograph of a pond as almost all of the puddles were carpeted by the snowfall and by the time I'd got out to them they were no more than a rotten cocktail of packed snow and dirt.
So I hope you'll forgive me the pond. It does show up the thin layer of ice that is caught in that liminal zone between solid and liquid – and here it's more melting than freezing. You can see that the ice was just enough to support the weight of a duck, which I presume is of a similar weight to a cat. And anyway, such were the problems in getting this photograph, that I'd happy swap "Cat ice on puddles in December" for 'Duck ice over a pond in January."
I've had far more luck with the next two for January, "the best junk shop in London" and "a nice cup of tea" – which I'll soon write up with a bit more detail about Orwell included. If you want to have a look at the photos in the meantime, you can click here.
And, here are two of my better winter shots from this recent cold blast.
A winter walk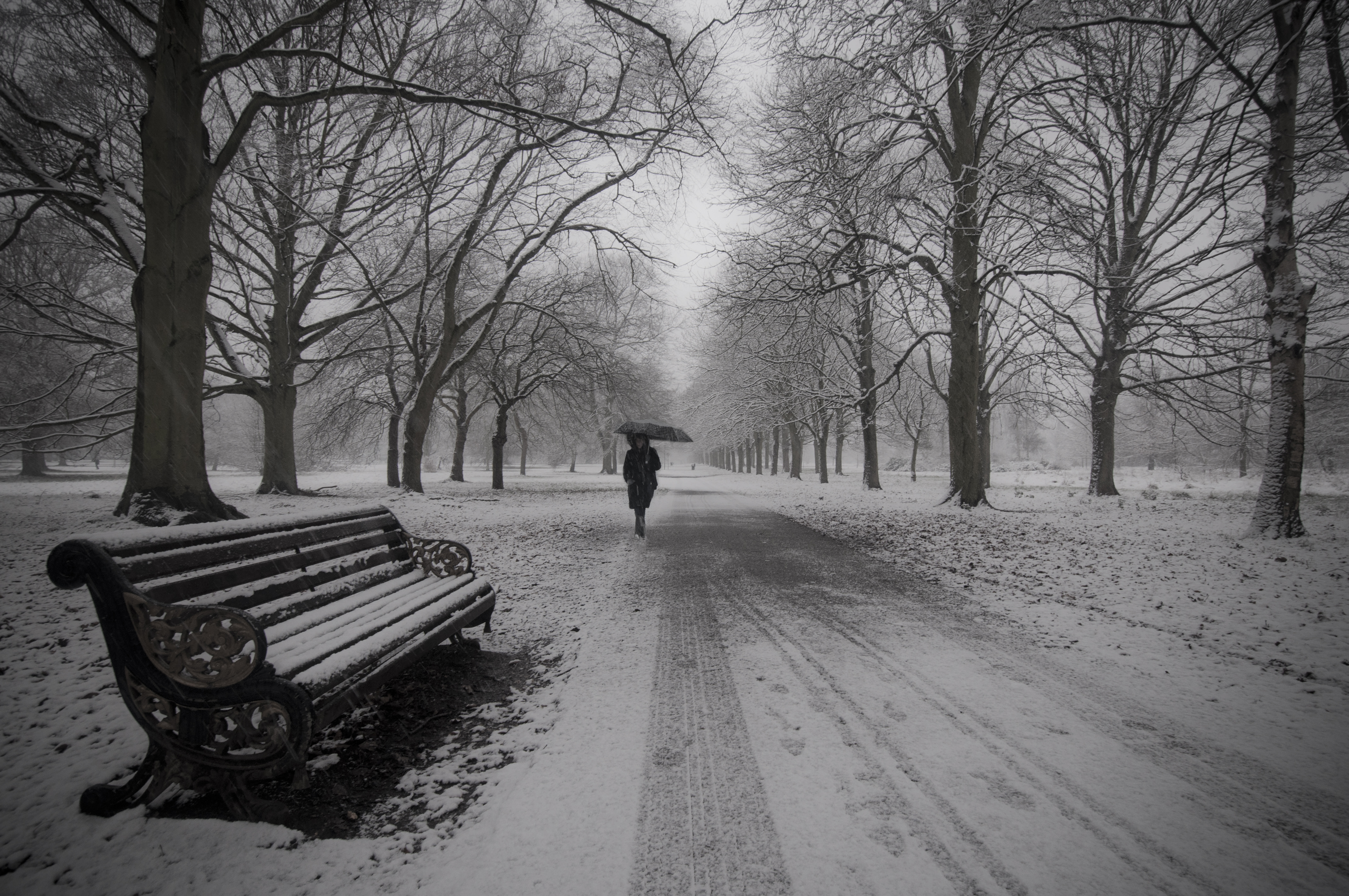 2. Across the loch