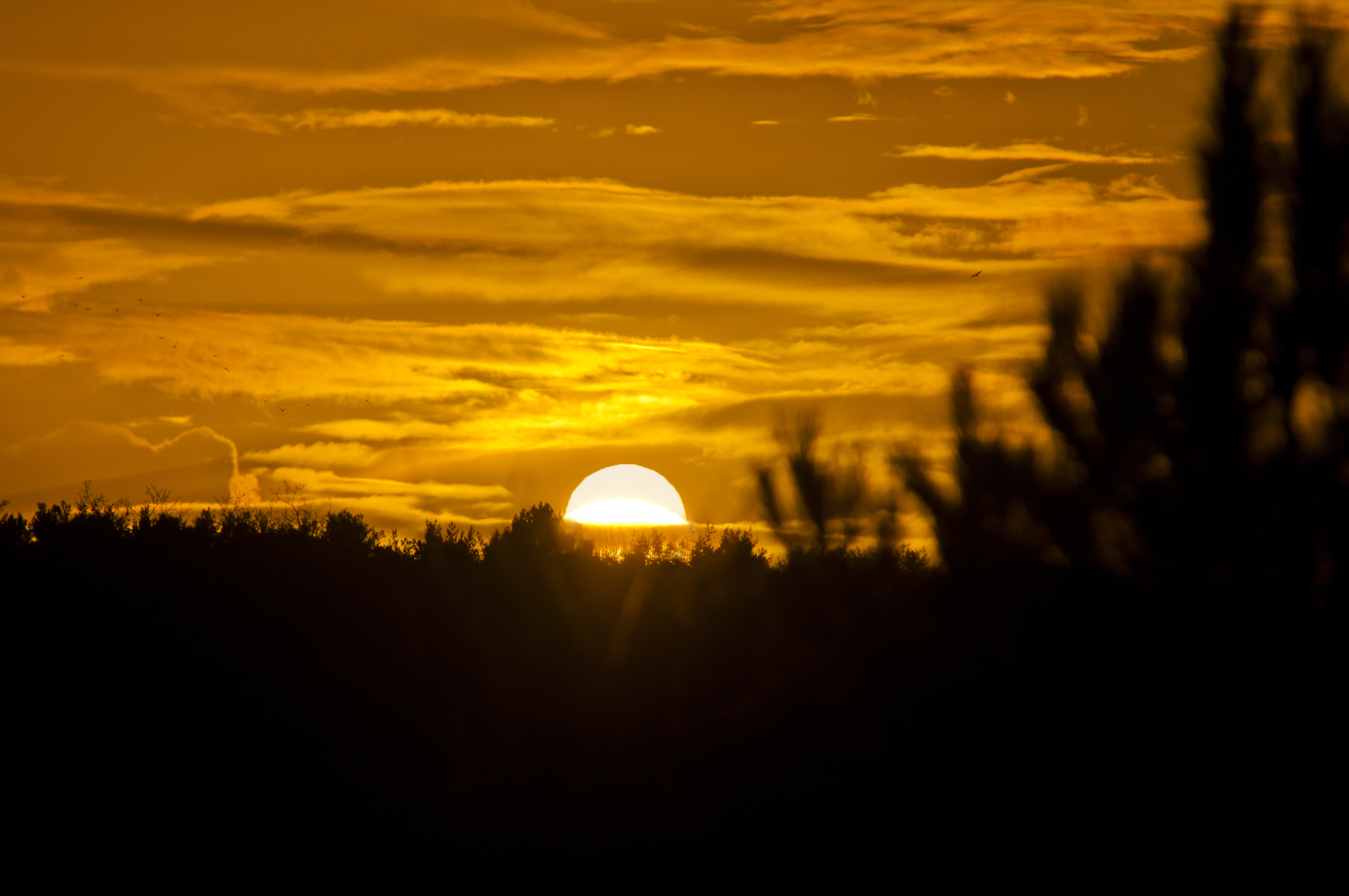 (To read about the project have a look at this page / Click on the image to see a detailed view)
Subject: The sun hanging over roof tops like a crimson ball which one can study with the naked eye
Location: Blithfield, Staffordshire
I began with this idea of Monet's Impression, Sunrise – his hazy, atmospheric vision of the harbour at Le Havre that would give a name to the impressionist movement. Here the blood orange sun climbs up through an atmosphere polluted by the chimneys of nineteenth century industry and wreathed in morning mist. I'm not sure what time of year the scene was painted, but from the cool sheen of the water there's a hint that it might have been in winter – which would make it a good representation of this latest of Orwell's associations.
I hoped to produce something similar with my camera this month. Like anyone else with an interest in photography I've got a growing appreciation for the position of the sun in the sky and the ambient light that it produces. Finding shadows, waiting for the golden light of the early evenings and finding an interesting composition are things that I have spent plenty of time doing, so I imagined that even with the extra challenge of shooting directly into the sun I should manage something before the end of December.
And in truth I was quite looking forward to it. With the low winter sun barely climbing about the tops of houses in December it is in reach of the photographer much more than any other months of the year. And the lower it lies the greater amount of atmosphere it has to shine through to reach ground level, which often means a greater refraction of particles at the red end of the spectrum – or, more commonly put, red sunsets.
So all would have been well but for the miserable weather of the last few weeks. Apart from fleeting spells of sunshine, the country's been covered with one depression after another – each one of them bringing mile after mile of thick lowly clouds that have turned the sun into little more than a bright watery smudge in the heavens.
Only on a few occasions between the fronts has the weather improved enough to let us have a good look at the sun and I've taken the best shots I can. The first is one which I managed in Blackpool on 27 December of the sun dipping down beneath the central pier and the second, which I'm putting on here, was taken the day afterwards in Staffordshire in a brief few moments before twilight when the clouds broke and the sky turned into an ephemeral kaleidoscope of gold and yellow. And I have not seen the sun again since.
—
(Here's an interesting article explaining the colours of twilight and sunlight.)