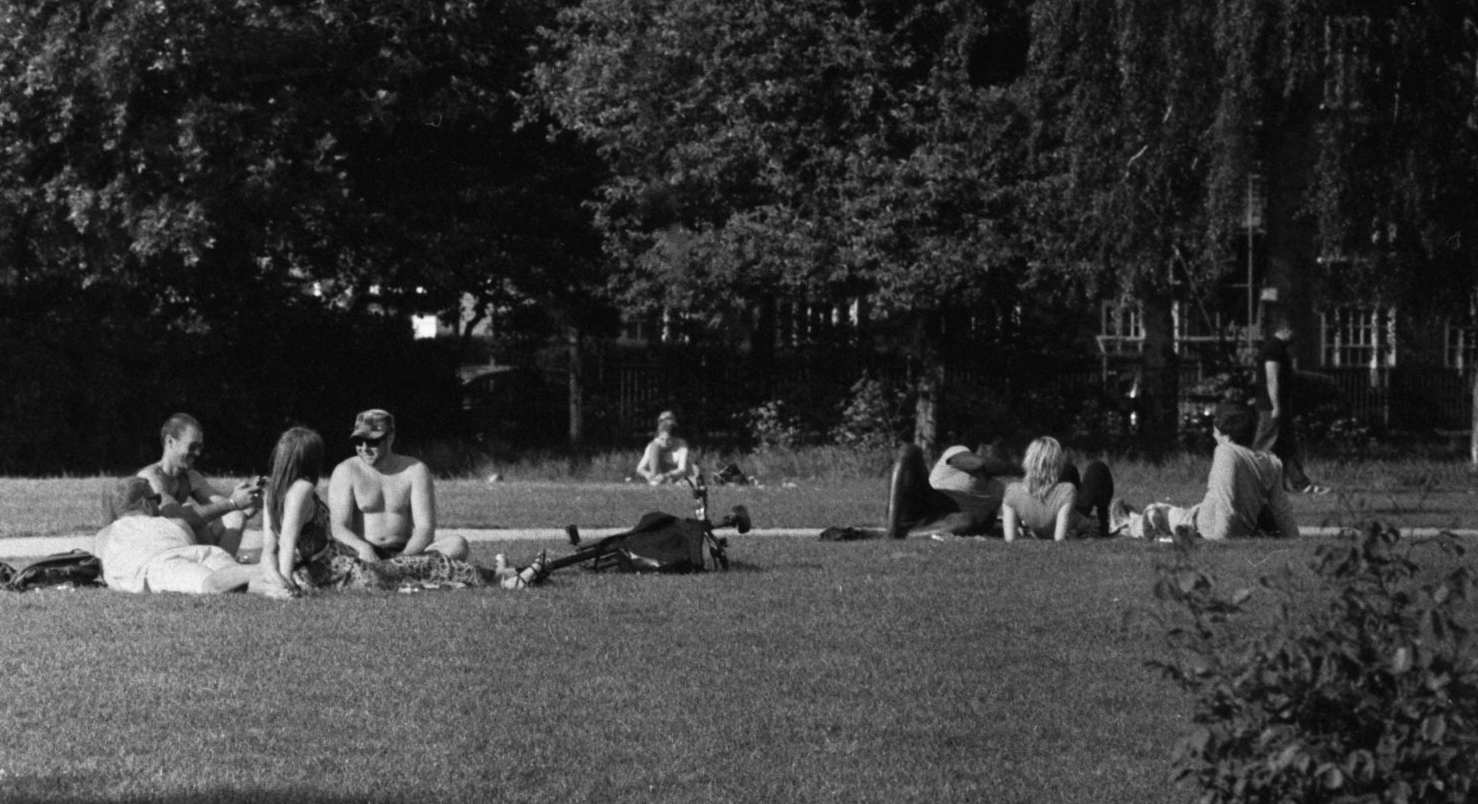 (To read about the project have a look at this page / Click on the image to see a detailed view)
Subject: The pleasure of not wearing underclothes
Location: Furnival Gardens, Hammersmith
The few surviving photographs of George Orwell tell us without doubt that he was not a man of fashion. His choice of dress barely wavers at all. An old suit, most likely one of the 'Utility Suits' produced during the war from a wool synthetic blend. A rumpled handkerchief peeping out from the breast pocket. A shirt, invariably white, buttoned up to the neck. A cardigan, perhaps. And that was about it.
Of course Orwell did not live at an expressive moment for men's fashion. But so rigidly is this image of him in his suit engrained that it is impossible to think of him in anything else: a pair of Lee jeans, a striped jacket, a Zoot suit. All of them were growing in popularity at the time, and all seem thoroughly anti-Orwell.
The one variation in Orwell's dress that we can be sure about is that he stripped off his underclothes in May. He declares this, plainly enough, in his Bad Climates Are Best article. One of the highlights of May was 'the pleasure of not wearing underclothes.'
Now I'm not going to venture into an exhaustive debate on Orwell's choice of underclothes, but I'm quite sure that he was the type of man to wear a sleeveless vest. As coats have got progressively thicker and more comfortable it seems that fewer people bother with the old vest, something that used to be a ubiquitous object in my childhood.
I remember an elderly relative of mine, an upright, well-ordered octogenarian, once telling me that he wore a cotton vest underneath his shirt till the 1 June. After that date it came off until the end of September. It was his own personalised method of shifting from the chilly winter months to British summer time, a true event in his annual calendar.
It seems that Orwell had something of a similar tradition and that by the middle of May he was able to enjoy the spring breeze on his skin – a liberating thing after the long winter months.
Taking a photograph to represent this today, though, was always going to be difficult. I decided after a few weeks pondering to take advantage of the warm Bank Holiday Sunday. There's a little garden park down by Hammersmith Bridge in London. It was full of people idling about, picnicking or sipping drinks from the nearby Blue Anchor.
This photograph was taken with an Olympus OM-1 film camera, a model that was first released back in 1973 and quickly became one of the iconic SLRs of its day, associated with photographers like Don McCullin and the Observer's Jane Bown. (There's a great resource on the Guardian about Jane Bown's portraits.)
I've wanted to have a go at film photography for a little while and I was happy to get a shot to fit the subject on one of my weekend rambles. It doesn't have any of the sheen of a digital photograph but it many ways its more of an achievement. To get something worthwhile you've got to wind the film, set the aperture, set the exposure, frame the image and focus the lens before you can shoot. And if your subject is a group of people sunbathing in a busy park, you've also got to contend with the evil glares that you receive from anyone that takes a dislike.
I'm only about a week and a half into this first foray into film photography but I'm enjoying it. There are more successful results up on my Flickr page. This one was taken with an expired roll (2008!) of Kodak's TRI X and I developed it myself at home in the bathroom. A keen eye will doubtless spot a thousand errors – the shadows are far too dark for one – but I'm happy with it for the moment.
And if I do get fed up, I've always got this carefree chap to fall back on.