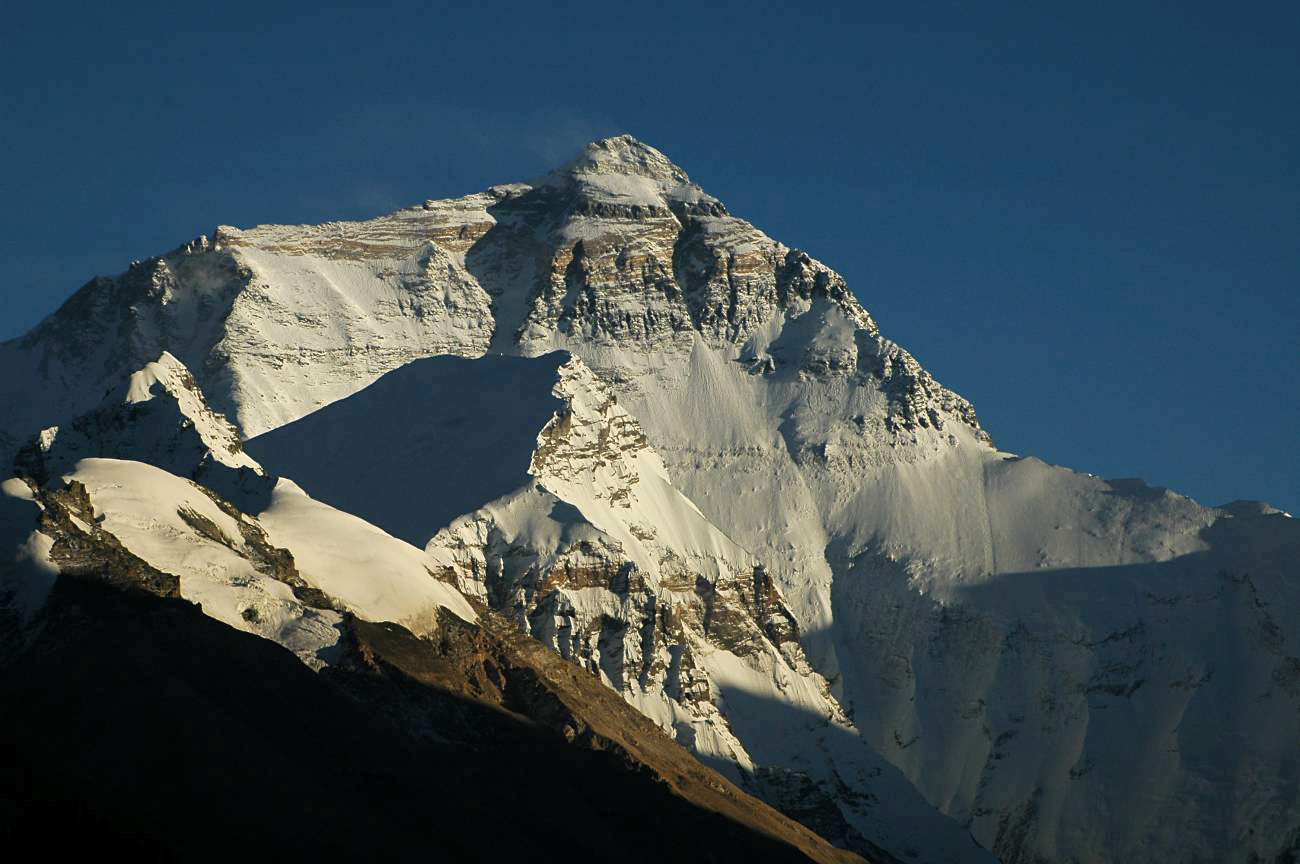 It's tempting in this distracted age to look longingly back to an earlier time in history when life was, to my mind at least, a simpler business. To live in the Western world nowadays is to live in a world of enormous and unprecedented material wealth, wealth that manifests itself in possessions – gadgets, machines, brands and consumables that we haul around with ourselves on a daily basis.
Such a reality means that even in the remotest spots people are very rarely alone. Preparing for her trip to Nepal and subsequent attempt on Mount Everest in 1996, the New York Socialite Sandy Hall Pittman wrote an early weblog for her fans:
'All my personal stuff is packed… It looks like I'll have as much computer and electronic equipment as I will have climbing gear… Two IBM laptops, a video camera, three 35mm cameras one Kodak digital camera, two tape recorders, a CD-ROM player, a printer, and enough (I hope) solar panels and batteries to power the whole project… I wouldn't dream of leaving town with an ample supply of Dean & DeLuca's Near East blend and my espresso maker. Since we'll be on Everest on Easter, I bought four wrapped chocolate eggs. An Easter egg hunt at 18,000 feet? We'll see!'
What happened on Pittman's trip has been well recorded. A vicious but not untypical storm hit the upper reaches of the mountain on 10 May as Pittman's and various other parties neared the top. Guides were caught in a dilemma. Their clients had paid sums of up to $65,000 to have their shot at Everest and for years there had been a dangerously growing belief that any individual could be shepherded to the top with enough planning, attention and bottled oxygen.
In bad weather this was certainly not the case. Several clients kept climbing after the 2pm final cut off time. Others of all ages and abilities were left exposed on knife-edged ridges and ice coated slopes to brave the full force of nature. Two days and two nights of pure chaos ensued before the storm broke. In that time eight people would die or would be cut fatally adrift. It was the worst disaster since climbers had first attempted Everest in 1921. Sandy Pittman herself would spend a night in a howling blizzard, only narrowly escaping with her life.
The disaster formed a sorry backdrop for Wade Davis, the writer/explorer, who was trekking through the Himalayas at this time in search of a clouded leopard. In a postscript to his book Into the Silence: the Great War, Mallory and the Conquest of Everest, he writes that Everest's commercial transformation had been a keen topic of conversation on his trip: the perceived luxury of the expeditions, the traffic jams and bottlenecks at the Hillary step, the $65,000 payment that would have you swept up to the summit on the back of a Sherpa.
And it just so happened that high on the winding, windswept trails of upper Tibet, dominated by the sprawling Rongbuk glacier, Davis found himself among the same paths to Everest's north side that had been trodden seventy years before by the very first fabled British expeditions to the mountain. Tales of these expeditions blew about his camp like the haunted mountain winds. The stories were redolent of an age of bygone romance that was very different to the modern reality of the mountain.
'The thought of those early British climbers, dressed in tweed, reading Shakespeare in the snow as they confronted such hazards, filled me with admiration, curiosity, and awe', he writes.
Among these climbers, the most famous is George Mallory whose legacy forms one of the greatest mysteries in mountaineering history. The finest climber of his age and an aesthete, infused with the most respected British ideals of his day, Mallory had been present on each of the British attempts on Everest in 1921 and 1922. In 1924 he had returned for a third and final assault on the elusive peak that, by now, had claimed the lives of one of his fellow climbers and a handful of supporting Sherpas.
On 8 June 1924, he had found strength for a final climb as the monsoon threatened from the south. At around 1pm he was spotted with his climbing companion Andrew 'Sandy' Irvine just a short distance from the summit. The expedition's geologist Noel Odell described his sighting of the pair:
There was a sudden clearing of the atmosphere above me, and I saw the whole summit ridge and final peak of Everest unveiled. I noticed far away on a snow slope leading up to what seemed to me to be the last step but one from the base of the final pyramid, a tiny object moving and approaching the rock step. A second object followed, and then the first climbed to the top of the step. As I stood intently watching this dramatic appearance, the scene became enveloped in cloud.
Mallory and Irvine were climbing dangerously late in the day and after Noel Odell's fleeting glimpse of them approaching the summit pyramid they were never again seen alive. Whether they reached the summit almost thirty years before Edmund Hillary and Tenzing Norgay managed it in 1953 remains a mystery. Scores of books have been written on the subject and, rightly, Davis muses at one point in his postscript 'What possibly remains to be said about a story that had been covered by so many writers?'
It is a valid point but, as so many non-fiction books have shown recently, a familiar subject can still be tackled as long as the writer comes at it from a fresh angle. And herein lies the allure of Into The Silence. 'What interested me from the start was not whether Mallory reached the summit but rather, why on that fateful day he kept going, quite possibly aware that he was walking to his death', Davis explains.
For the thoughtful, this is a question at least as tantalising as whether or not they made it to the top. And furthermore it's one that can be reasonably answered. As such, Davis begins Into the Silence not in the numbing cold of upper Tibet or with the marshalling of porters in Darjeeling, but amid the mechanised slaughter on the Western Front just a handful of years before, describing in stark prose the incompetence of the general staff who commanded wave after wave of soldiers to a pointless and often horrible death.
Of these it is Field Marshall Haig whose blundering is exposed above all. Davis describes him as a man whose belief in in the supremacy of the horse as a weapon of war never wavered, even long after the Armistice was signed.  He was a man who always attacked at 7.30 in the morning, who never once in all the war visited the front himself and who Normal Stone, the historian, once famously dubbled 'the greatest Scottish general ever, since he killed more Englishmen than any other.'
The war, directed by men like Haig, resulted in the near destruction of a generation, of which Mallory was one of the brightest lights. Davis writes, 'The long hallucination of the war induced a universal torpor and melancholy, a sense of isolation, a loss of centre, a restless desire to move – what Christopher Isherwood called the "vast freak museum of our generation." For some, like Robert Graves, the conflict had marked their entire adult lives, with each moment of it, as he later recalled, having provoked an inward scream, the duty to run mad.'
People were left disorientated and bereft. Vera Brittain, the writer, is mentioned by Davis as one sadly typical example. She lost her fiancé, her brother, and her two best male friends to the war –'she had no one left to dance with.' 'Had the actual dead walked down Whitehall in 1919', he writes, 'the parade would have lasted four days.'
The emotional weight and authority of Davis prose leave us with an understanding of the expeditions to Everest like never before. Almost all those recruited by the miserly almost-Dickensian figure of Arthur Hinks of the Everest Committee over the next few years had served during the war, a conflict that overshadowed all they tried to do. Many of the climbers were army men and everything that happened on the mountain thereafter was couched in the military language of 'assaults', 'attacks' and 'campaigns'.
Tacitly, Davis suggests, conquering Everest was seen as redemption for an army that had been decimated by the war and a significant gesture for a waning Empire that had already been beaten to both of the poles. The spirit of the men and the stories they brought home was intended to redefine a sense of Britishness, in a country whose natural sense of supremacy was being undermined at the time by the emergence of men like Mahatma Ghandi. There's a memorable moment towards the end of Davis' description of the second expedition in 1922, when Geoffrey Bruce – a soldier drafted into the party as a climber – turned around and glanced at the mountain. 'Just you wait, old thing,' he said, – 'You'll be for it soon.'
Into The Silence is a magnificent book that augments and enlivens a familiar story. It includes too a history of John Noel's early Everest films, an early innovation in outdoor documentaries. There's the lost joy of letter writing, the golden age of telegraphs and the chance – now gone – for an explorer to quite literally walk off the map.
At what must be nearing quarter of a millions words, it's not perhaps a book for the casual reader – and there are moments during his retelling of the 1921 expedition when you wonder whether Davis really needs to describe the smell of each individual flower or the geography of each distinct valley. Such reservations aside, there's little else to fault.
All paths, of course, ultimately lead to George Mallory and Sandy Irvine on that day in June 1924. Odell sees them last as we do, just two little specks on the horizon inching ever upwards in the cold thin air.
—
Image credit: Carsten Nebel