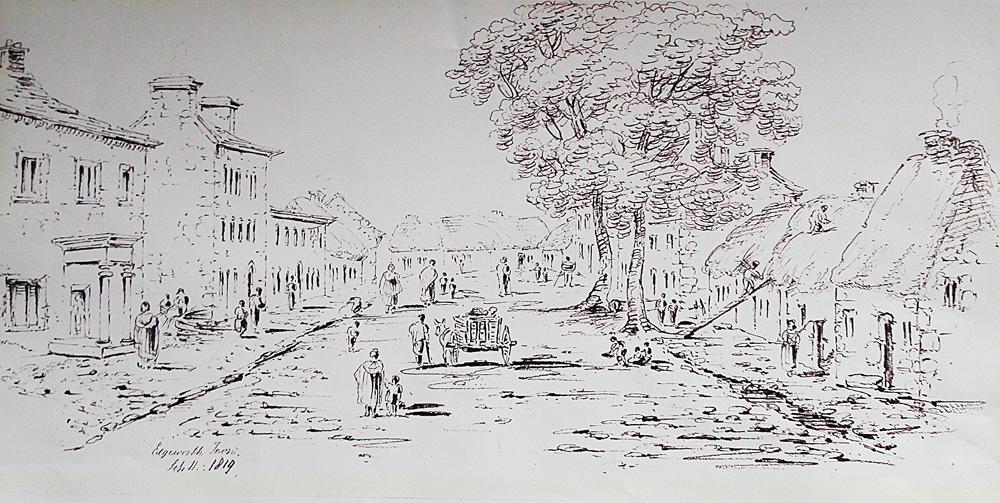 Maria Edgeworth was a leading literary voice in Ireland at the turn of the nineteenth century and an acknowledged influence for Jane Austen. Maria was the daughter of the philosopher and polymath Richard Lovell Edgeworth. She wrote this letter during the Irish Rebellion of 1798, telling of a dramatic escape from their Edgeworthstown home.
Maria Edgeworth to Mrs Ruxton
Sept. 5, '98.
We are all safe and well, my dearest aunt, and have had two most fortunate escapes from rebels and from the explosion of an ammunition cart. Yesterday we heard, about ten o'clock in the morning, that a large body of rebels, armed with pikes, were within a few miles of Edgeworthstown. My father's yeomanry were at this moment gone to Longford for their arms, which Government had delayed sending. We were ordered to decamp, each with a small bundle: the two chaises full, and my mother and Aunt Charlotte on horseback. We were all ready to move, when the report was contradicted: only twenty or thirty men were now, it was said, in arms, and my father hoped we might still hold fast to our dear home.
Two officers and six dragoons happened at this moment to be on their way through Edgeworthstown, escorting an ammunition cart from Mullingar to Longford: they promised to take us under their protection, and the officer came up to the door to say he was ready. My father most fortunately detained us: they set out without us. Half an hour afterwards, as we were quietly sitting in the portico, we heard—as we thought close to us—a clap of thunder, which shook the house. The officer soon afterwards returned, almost speechless; he could hardly explain what had happened.
The ammunition cart, containing nearly three barrels of gunpowder, packed in tin cases, took fire and burst, halfway on the road to Longford. The man who drove the cart was blown to atoms—nothing of him could be found; two of the horses were killed, others were blown to pieces and their limbs scattered to a distance; the head and body of a man were found a hundred and twenty yards from the spot. Mr. Murray was the name of the officer I am speaking of: he had with him a Mr. Rochfort and a Mr. Nugent. Mr. Rochfort was thrown from his horse, one side of his face terribly burnt, and stuck over with gunpowder. He was carried into a cabin; they thought he would die, but they now say he will recover. The carriage has been sent to take him to Longford. I have not time or room, my dear aunt, to dilate or tell you half I have to say. If we had gone with this ammunition, we must have been killed.
An hour or two afterwards, however, we were obliged to fly from Edgeworthstown. The pikemen, three hundred in number, actually were within a mile of the town. My mother, Aunt Charlotte, and I rode; passed the trunk of the dead man, bloody limbs of horses, and two dead horses, by the help of men who pulled on our steeds: we are all safely lodged now in Mrs. Fallon's inn.
Before we had reached the place where the cart had been blown up, Mr. Edgeworth suddenly recollected that he had left on the table in his study a list of the yeomanry corps, which he feared might endanger the poor fellows and their families if it fell into the hands of the rebels. He galloped back for it—it was at the hazard of his life—but the rebels had not yet appeared. He burned the paper, and rejoined us safely.
[…]
Image credit: John McGerr
(More Historical Miscellany here)