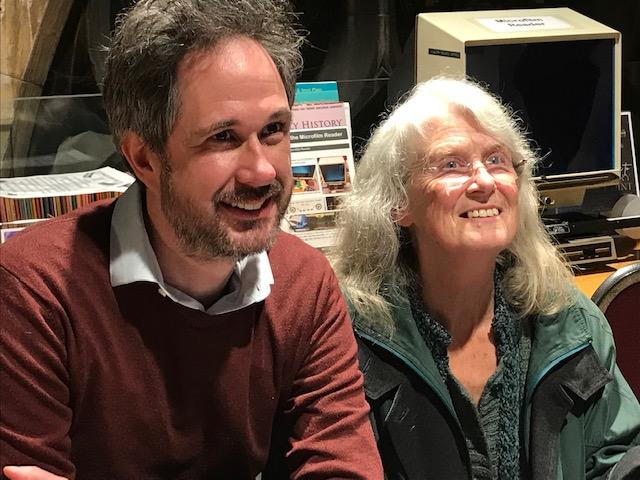 After what feels like a long period of hibernation, I've been venturing out a little more recently. Last Saturday I went up to Lichfield to give a very enjoyable and quite poignant lecture on the Endeavour as part of their literature festival.
It was enjoyable because it gave me the chance to look back on a favourite old project and to see how much my attitude towards it had shifted over time. And it was poignant because the lecture had been organised in memory of Peter Barrett, a leading figure in Lichfield's cultural life who died in September 2021.
The lecture took place in the Hub, just opposite Samuel Johnson's Birthplace Museum, and it was full of Peter's old friends. To the right you can see a picture of me with Peter's widow Margaret. My thanks to them all for the invite. I hope this lecture will become an established part of Lichfield's Literature Festival.
For any interested Londoners, I'll be back on a stage shortly at Daunt Books in Marylebone on 18 April where I'll be interviewing Sarah Bakewell about her excellent new history of humanism.
After that I'll be turning my mind to my own book. It's been a month or so since the advance proof copies of Life, Liberty and the pursuit of Happiness went out in the UK and the USA and I have been overwhelmed by the response. I'm very grateful to all the brilliant writers and scholars who've found the time to read what is, admittedly, a rather long book.
Also, very promptly and thrillingly, LLH's first review arrived from Publisher's Weekly last week. For a long time my publication date has seemed a very distant thing indeed. But looking at my calendar just now, I see that it's only three months away!
Happy Easter holidays to you all.