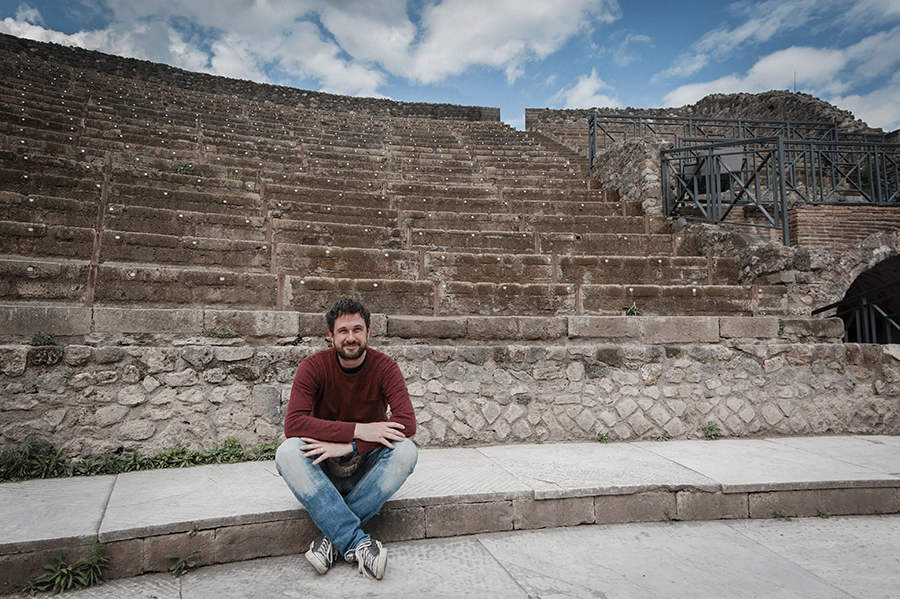 (At the large theatre in Pompeii)
Welcome
Hello, thank you for visiting my website. I'm a writer and sometime lecturer. I live in the middle of London but I grew up in the countryside and I escape back whenever I can.
I've always been strongly drawn to historical stories. As a boy it was the gritty twentieth century – the world wars, the ideologies, the monstrous dictators – and after that it was the elegance, politicking and treachery of the Tudors.
Eventually I settled in a new period, the late Georgian/early Victorian age – the world of Dickens and Brontë, Brunel and Constable. It's a time of letter writing, of ambition, of poetry, of science, of war, of revolution and style, caught half way between the old rustic world and the new metropolitan one, when the western society we live in today was being built.
These interests were nurtured along by a few fine teachers at my local state school in Uttoxeter, Staffordshire, and then at Durham University. After that I spent a few years in Madrid before moving back to London where I've lived ever since.
Books
My first book was called Damn His Blood. It reconstructed a criminal case, the murder of a clergyman in rural Worcestershire in 1806 and the strange sequence of events that followed. I wrote the book in stolen hours here and there outside my day job. It was published in 2012. The Times Literary Supplement called it a "brilliant, startling debut".

While writing Damn His Blood I became intrigued by the weather records of the time. The language – a fret of wind, a double-reefed topsail breeze – seemed so unusual and unsettled. It turned out that at just the time the unfortunate Reverend Parker was being shot in his glebe meadows, Luke Howard was giving clouds their modern, scientific, names and Francis Beaufort was jotting down his idea for a standardised wind scale.
These little milestones set me off on my second book, The Weather Experiment. It's a more panoramic story, a far cry from my 1000 acres of rural Worcestershire. It's let me follow Robert FitzRoy to the frozen wilderness of Tierra del Fuego, James Glaisher seven miles into the sky over Staffordshire and Francis Beaufort to the South China Sea. It ends with one of the great controversies of Victorian science, FitzRoy's weather forecasts of the 1860s, though it is about much more than that.
The Weather Experiment came out in the UK and USA in spring 2015. It's loaded with ships, storms, rainbows, hot air balloons, snowflakes and landscape art. It's been a Sunday Times Bestseller and selected as an editors' pick in The Times, The Literary Review and The Week. Richard Morrison of The Times chose it as his Book of the Year and The New York Times included it in their 100 Notable Books of 2015.

I now teach with Julie Wheelwright on the MA course in non-fiction writing at City University. In March 2014 I was Writer in Residence at the unique and magical Gladstone's Library in Hawarden, Wales. In 2016 I was awarded a Winston Churchill Fellowship to research the history of James Cook's first voyage of discovery in the South Seas.